About Henry Li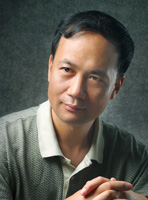 Henry Xiaohui Li(b. 1959), as known by his artist name Ji-yi-lou-zhu, is the owner of Blue Heron Arts Co. in Los Angeles, California.
Trained in a time-honored tradition of art, Henry Li began painting in 1974 under Zhang Zhengyin(1912?1995), a master in Henry's hometown, Nanjing. He majored in Archaeology when he got into Nanjing University in 1977, and became a fellow of the Center for Oriental Painting and Calligraphy Study in 1983.

Henry came to the US in 1987 to study for his degree in ancient Chinese history at University of Washington. He taught traditional Chinese painting and calligraphy at UW's Experimental College from 1988 to 1995 while he was a graduate student there. After graduation, Henry taught culture and history classes of China, Japan and Korea at Western Washington University.

Over the years, Henry continued to develop his amazing talents. He took a web design job in Colorado Springs and became a professional internet developer, and by 1997 he moved to Los Angeles and created several very popular online greeting card websites, one of which (card4you.com) went to public in 1998. Since then, he has been involved in a number of internet adventures and designed numerous e-commerce websites for various businesses.

After ten years of pixel painting on the computer Henry returned to traditional ink and watercolor media. Since 2007 he started to show people how to do Chinese brush painting on the website. Henry works tirelessly to make his painting videos look effortless, spontaneous and joyful. Meanwhile, he has started to explore new materials and techniques that will give this centuries old art form a new life.

Since 2010 Henry became a fulltime Chinese art teacher and supplier, with thousands of fans and students all over the world. His artistic family members includes his wife Victoria, who taught Chinese language at universities, now teaches Chinese calligraphy and plays Chinese music instruments; and daughter Amy who is a professional graphic designer graduated from the art department of Cal State Long Beach.

Henry's Facebook:
http://www.facebook.com/blueheronarts

YouTube:
http://www.youtube.com/profile?user=blueheronarts

Twitter:
http://twitter.com/blueheronarts

Blogger:
http://blueheronarts.blogspot.com/?view=classic
My Seven Sources of Inspiration
Click here for more information about Henry's Online Class and Workshops