About Henry Li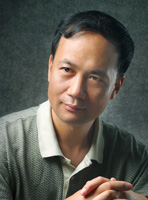 Henry Xiaohui Li, also known by his artist name Ji-yi-lou-zhu, was born in 1959 and is the proud owner of Blue Heron Arts Co. in Los Angeles, California.
Henry's artistic journey began in 1974, under the mentorship of Zhang Zhengyin, a master artist from his hometown of Nanjing. His passion for ancient history led him to major in Archaeology at Nanjing University in 1977. He later became a fellow at the Center for Oriental Painting and Calligraphy Study in 1983.
In 1987, Henry moved to the United States to pursue a degree in ancient Chinese history at the University of Washington. While there, he introduced students to the nuances of traditional Chinese painting and calligraphy at UW's Experimental College from 1988 to 1995. Post-graduation, he expanded his academic reach to teach courses on the culture and history of China, Japan, and Korea at Western Washington University.
Henry's foray into the digital realm began in the late 1990s. He moved to Los Angeles and successfully launched several online greeting card websites, including card4you.com, which went public in 1998. His expertise in web development led him to design numerous e-commerce platforms for various businesses.
In 2007, Henry returned to his first love—traditional ink and watercolor painting. He revitalized this centuries-old art form by sharing instructional videos online, blending traditional techniques with modern innovations.
Since 2010, he has devoted himself full-time to Chinese art education, amassing a global following of fans and students. His efforts have made Blue Heron Arts Co. a reputable source for art supplies and tutorials.
During the 2020 pandemic, Henry expanded his educational reach by teaching a series of online classes through Brooklyn Public Libraries. These included courses like "Memories of Home," "Creative Aging," and "Classical Chinese Landscape Painting," offering artistic solace and skill development during a challenging time.
Henry's commitment to the arts is a family affair. His wife Victoria, formerly a university Chinese language instructor, now teaches Chinese calligraphy and Gongbi style painting. Their daughter Amy, a Cal State Long Beach graduate, is a professional graphic designer.
Henry's diverse background and continued passion for both art and technology make him a unique force in the ever-evolving world of traditional Chinese art.

Henry's Facebook:
https://www.facebook.com/blueheronarts

YouTube:
https://www.youtube.com/profile?user=blueheronarts

Twitter:
https://twitter.com/blueheronarts

Blogger:
https://blueheronarts.blogspot.com/?view=classic
My Seven Sources of Inspiration
Click here for more information about Henry's Online Class and Workshops