Our Customers
A nonprofit organization, the SSA and its local chapter affiliates around the US were founded to foster appreciation of East Asian brush painting and calligraphy, to create a bridge between East Asian and Western cultures, to exhibit sumi-e art in public and private venues, and to conduct educational activities such as lectures, demonstrations and workshops. The SSA website, www.sumiesociety.org includes a gallery of member's artwork, a teacher list and membership information. Facebook page -- https://www.facebook.com/sumiesociety.org
Excellent Source for Asian Art Supplies

I have been buying Chinese Painting and Sumi-E supplies from Blue Heron Arts for several years. Blue Heron Arts provides a great selection of brushes, paper, colors, and books. The service is always prompt and excellent. The most important thing Blue Heron Arts has to offer is its owner, Henry Li. Mr. Li possesses an incredible wealth of knowledge on all aspects of Chinese art, and he is extremely generous in sharing this with his customers and students. Whether it is demonstrations of different techniques or videos of visits to brush, ink and paper producers in China, Mr. Li makes a tremendous amount of information available that I have not found anywhere else.

Kevin Donohue, New York
Dear Blue Heron Arts,
I've just received my order today and I must say, I'm very happy and pleased with everything! It all came in a wonderful tube (and rather quickly to say I'm far away in England) and just wanted to say thank you ever so much for your service.
I'll definitely be ordering again. Cheers!
Kind Regards,
(Miss) Levi Richards.
I much enjoy watching your art demonstration videos on YouTube.
I maintain a Chinese language instruction blog site at
Your feedback has been extremely punctual and invaluable regarding the specific materials that I have purchased for my art. Alongside your tutorial videos and personal study I have crafted my art, and am building a greatly anticipated company and collection for launch. Thank you again, your company and instruction are be highly recommended!

Jason, Sumi-e Silhouettes, Miami Beach, FL
www.sumiesilhouettes.com


"The brushes arrived in 2 days! Wow such great service and I really like them a lot. It would be my pleasure and if you have a listing for teachers of Chinese painting or Sumi-e in the U.S. please add me to the list. Thanks again, Best regards,
Bettie Sarantos, RI, USA
http//:www.croquetartist.com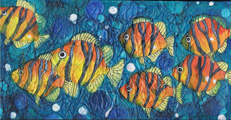 Sue Daw who bought our mulberry paper #1 for batik watercolur painting and has the following feedbacks:
"Many thanks for my order of rice paper. It is wonderful and I will be seeking more orders from you.The order did not take long to arrive here in Australia. I have just completed two watercolour Batiks on the rice paper and very happy with the results. I painting on watercolour,use hot wax to save light tones and slowly build up the painting this was until I have covered all the paper with Wax,Then I crinkle
up the sheet scrunch in my hand ,to make wax crackle then apply ink over to get batik look in cracks,Using lots of newspaper iron all wax of the it is ready to mould on canvas or on paper. Ready to frame. "
Sue Daw from Australia
"Thank you! And yes, that would be great to link to my blog with my endorsement of your brushes."
Martha Lever, artist and teacher, USA
http://www.marthalever.blogspot.com/
"Hi Henry, thanks for your message. I ordered some of your products - brushes, ink, papers. They reached me in France very quickly and there were no problems.
I follow your very good demonstrations on you tube and they help me to find my way, thanks."
Ulrich from France
http://www.atelierdesuenos.com/
Alberto Giuliani's Watercolor Paintings done with BHA Brushes
"Professor Henry Li, a talented Chinese painter/calligrapher and owner of Blue Heron Arts, was kind enough to offer me a brief insight and history on Chinese seal carving and ancient Chinese seal script styles dating as far back as 2,000 years old. An archaeologist, historian and former art instructor at the University of Washington, Henry Li's extensive knowledge and hands-on experience in Chinese art and history was awe-inspiring. His studio boasts original works of art, a library of historical reference books, and an empire of art supplies/tools that will make any art store look like a small, backyard toolshed! At first encounter, he is a very charismatic and laidback fellow-very friendly and altruistic. But peel away the modest persona and you will discover a formidable master artisan, innovator and a successful entrepreneur."
- Cedric Nocon
graphic designer & illustrator
http://cedricnocon.com/index.php/blog/173-crafts/71-creating-an-artist-seal-on-qingtian-stone-.html
"The brush pen is really like an actual brush. It feels very much like a natural I mean. It makes amazing accidental flowing lines, and no more worries of being dried out or too much inks flowing because of the piston.
And the hair tip feels like made with almost full of natural hair that keeps the original shape and sharp point of the tip by smoothness
And also, it doesn't need any expensive special ink :). Just like an actual brush that I can draw outside too.
......
So, basically my complaints are all about the design of the body. The tip, which is the most important part for brush is just perfect!!!

This brush pen is very creative, and useful that I would love to recommend to other drawers. You know what? Actually one of my professior who teaches perspective class actually asked me what pen I was using. "
Junghoon Lee
Pasaneda Art Center, California
"My happyness is finding the beautiful rice paper you offered for sale. In this financial year, it is too expensive for me to have my artwork commercially reproduced. Using rice papers for making arists proofs of my own woodcuts is the only way I can survive in art market."
Sincerely,
Kathryn Luzzi
"The videos are worth watching to learn how to apply paint. Mulberry paper is very good for achieving soft moonlight effects on water just by quickly sweeping the brush across the paper and allowing it 'bleed' for shadow and reflection. It's also vey forgiving! and allows for correction."
many thanks,
Colin
Livermore, California
"Hello, I purchased some of your wonderful rice/mulberry paper about a month ago. I teach mixed media classes online, and I am currently creating a class now where I will be using your paper! I want to refer my students to purchase from you because your quality is great, and your feedback is great, not to mention your customer service. I would like to provide a link to my students on my website to you under my supplies list for the class. I will be happy to include a link to your website or ebay store."

Thank you,
Cristina Galliher
http://www.rosesonmytable.com/

"Thank you for all these supplies. My students will be thrilled! I will get all my supplies from you from now on.

I thought you might like to see my artwork. My website is: www.marilynmackrisart.com
And I did all of these without glue water! How much better I will do by using it!"

-Marilyn Mackris, Art teacher, Missouri
"Just received the mounting paper and the three brushes. Am very excited to use all of them, especially the mounting paper....No more cooking paste. And I like the idea that you don't have to work with such speed as with traditional wet-mounting.

The (fountain) brushes are beautiful - so much better than those squeeze-type water brushes with synthetic hairs. These brushes are good enough to use as 'regular brushes', not just outside sketching."
regards,
Lisa Chakrabarti,Fine Artist
website: http://www.clouddragonart.com
"I just received my order (that only took a week to get here to Canada!) and I wanted to ask you a question. I bought the ink from you in the order. I have a dvd by Cheng Khee Chee on marbelizing on rice paper. In it, he explains to only use one brand of ink. (I forget the name but it's in a green bottle.) Will the ink I bought from you work the same? (You put drops on the surface of water, swirl it a bit, then lay the rice paper face down on it and lift it quick for that marbelizing look.)
[answer: Yes, our ink will work the same for marbeling.]
I really love all the rice paper I bought from you and will definitely be back for more. I've done paintings on rice paper before but couldn't find any of the 'right' paper until I found you on ebay! I'm also going to put a link to you on my website and blog so others can 'find' you, too."
Deb, Sumi Artist, Canada
[Answer: Thank you, Deb! We will link to you here too.]
Click here to submit your feedbacks and link.